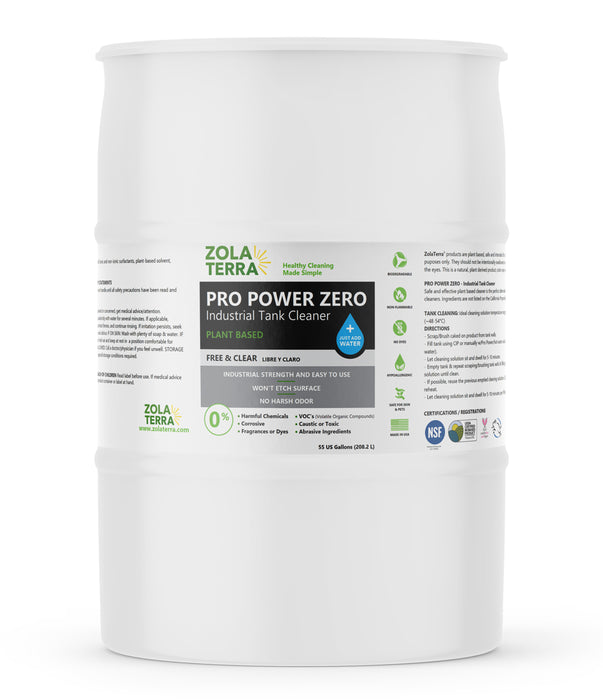 Pro Power Zero Industrial Tank Cleaner
PRO POWER ZERO INDUSTRIAL TANK CLEANER is a Just Add Water Cleaner that is the perfect alternative and direct replacement for caustic cleaners or powders. Cleans at a lower temperature, without risk of etching or pitting tanks and without VOCs.
Plant-based formula
Just-Add-Water Product
Direct replacement for caustic powders
Lower cleaning temperature; Saving money and time
Removes unwanted odors
Reduce chemical and biological load on local sewerage systems
Safe for skin, reduces exposure to dangerous chemicals
Non-flammable, non-corrosive
No special handling or storage needed
Non-toxic, natural formula replaces caustic cleaners
Non-hazardous, non-abrasive ingredients
Biodegradable 
Free of fragrance, dyes or alcohol
Contributes towards LEED certification points & Materials and
Resources Credits
Manufactured and assembled in USA
Cruelty free & vegan
Family owned & operated
Ingredients are not listed on the California Proposition 65 List

USAGE INSTRUCTIONS  Tank Cleaning: Ideal cleaning solution temperature range 125º - 135º (~48-54ºC).

Scrape / brush caked on product from tank walls. Fill tank using CIP or manually with Pro Power / hot water solution (4oz / gallon water). Let cleaning solution sit and dwell for 5-10 minutes. Empty tank & repeat scraping / brushing tank walls & filling tank with cleaning solution until clean. If possible, reuse the previous emptied cleaning solution. Do not need to reheat. Let cleaning solution dwell for 5-10 minutes per filling.
INGREDIENTS Mineral free water, proprietary blend of ionic and non-ionic surfactants, plant-based solvent, gluconate salt
ZolaTerra® products are plant based, safe, and intended for cleaning purposes only. They should not be intentionally swallowed or sprayed into the eyes. This is a natural, plant derived product, color may vary by batch.
NOTE: All ZolaTerra products are plant based and biodegradable, what is being removed may not be. Dispose of waste materials according to local, state or federal laws. ZolaTerra products should not be mixed with anything.
55 GAL
Contact us for pricing: info@zolaterra.com